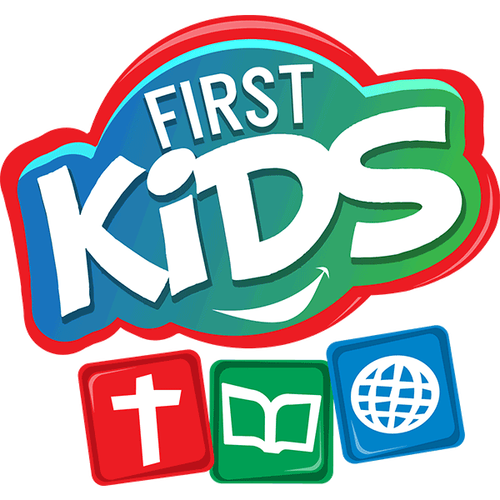 Our high-energy, Bible-focused FIRST KIDS Ministry includes preschoolers, children, and our Weekday School.
What to Know About Your First Visit
On your first visit, please stop by the FIRST KIDS desk. We'll meet you and your family, get your child checked in and assigned a security tag, and one of our background-checked volunteers will lead you and your child to his or her classroom. Each Sunday we offer preschool care and activities for birth through Kindergarten at 9:30 and 11 a.m. (preschoolers may stay both hours). Sunday School classes for 1st - 6th graders is available at 9:30 or 11 a.m. (elementary kids may attend one session). We encourage families to worship together as often as possible!
Wednesday night activities for birth through 6th graders are available beginning at 6 p.m.
One of our FIRST KIDS Ministry's goals is to equip families with the tools needed to teach their kids about God's Word! To reach that goal, we want to challenge kids to learn 50 key verses and 10 truths by the sixth grade. Each month, we will review one truth and five verses related to that truth.* During the summer, we will focus on learning the Books of the Bible.

We will have incentives and prizes to encourage the kids to learn the verses and truths, but we hope you will accept this challenge as well. Plan a few minutes each day or set aside an hour a week to focus on the monthly theme and verses.

*Preschoolers up to kindergarten will learn the first verse each month. First through 3rd graders will learn the first three verses, and children in 4th through 6th grades will learn all five verses.
Vacation Bible School 2022
Get those creative juices flowing at Spark Studios where imagination is ignited and creativity is awakened. Whether kids are exploring their artistic side in the Bible Study Studio or Crafts Design Center, laying down a track at the Music Sound Stage, or bringing inventions to life at the Missions Workshop, they will learn, like King David, to use their talents to bring glory to God. They will discover that their creativity is a gift from the infinitely creative Creator who designed them for His glory.
Parent and Child Dedication Sunday
Parents/guardians will commit to raising their children using godly principles during this special service.
Both parents/guardians are not required but encouraged to participate. Please note that the 11 AM service will be on Facebook Live. If one service has too many signed up, we may need to move some dedications to the other service. That will be decided on a first-come, first-serve basis, and the deadline to sign up will be June 12th.
Bible // Missions // Worship
Bible! Missions! Worship! These are part of everyone's faith journey. Buckle up for exciting activities, stories, and more each Wednesday at 6:00 p.m. as we hop in the FIRST KIDS BMW! This is for children ages two up to 6th graders.
Our Weekday School is a state-certified preschool for children ages 15 months through pre-k. Its hours are Monday through Thursday from 9 a.m. to 2 p.m. during the Maury County Public School year.
Our energetic and fun Children's Associate Kacie Streeter is here for you and your elementary aged kids.
Preschool Ministry Associate
Ayesha Rochester keeps everything running smoothly in both our FIRST KIDS and Weekday School Ministries! She and her husband Mike have five children and three grandchildren.
KatySue helps teach preschoolers and children, helps plan special events, and works with our amazing volunteer team.
We'd love to answer any questions! Fill out the form below, and we will get back to you soon.