Senior Pastor Search Update
On March 7, 2021, the Steering Team and Deacons met to discuss the Senior Pastor vacancy. After discussion, it was unanimously decided that the Steering Team would be seeking a Transitional Interim Pastor at this current time. This decision was made in accordance with the church constitution that gives the Steering Team the role as overseers in the overall operations of the Church and to advise and counsel in matters of congregational care. It was also decided, that at this time, the Deacons would not form a Pastor Search Team. That team will be formed at a later date, to be determined. It is the desire of the Steering Team to be transparent, open and to keep the Church updated regarding decisions that are being made as we move into this next chapter of our Church. Thank you.
Our Pastor Emeritus Mike Dawson provides pastoral support to our pastoral team and prayer support for our church. Pastor Mike stays busy serving as a transitional pastor for churches throughout our region. His wife Jolene is the pianist at West End Baptist Church.
Biblical Education Pastor
Pastor Rick oversees the Bible-centered teaching part of our mission. He has influence over all education programs birth through senior adults and hands-on oversight in our adult ministries. Pastor Rick joined our staff in 2000. He and his wife Karen have two children: Courtney (married to Ryan Cothran, their children: Kaylee, Sydney, and Asher) and Cameron.
Pastor, Hispanic Ministry
Pastor Gustavo shepherds our Hispanic Ministry. He joined the staff full-time in 2013, although he has served in our Hispanic Ministry for several years. He and his wife Armida (Alma) are originally from Guatemala. They have three children: Josue (married to Peyton), Jazmin, and Vanessa.
Pastor Dathan joined our staff in 2014. He is responsible for shepherding and overseeing all aspects of our Children's Ministry for birth through sixth grades. He also serves as the administrator of our Weekday School. Pastor Dathan and his wife Sarah Beth have three children: Hallie Grace, Addison, and Charlie.
Pastor Tim joined our staff in 2019. Pastor Tim has a great love for mentoring and growing Christ-followers through Christ-centered worship. He is passionate about assisting believers in fulfilling the Great Commission. Tim and his wife Megan are parents to Abner and Eden.
Pastor Deron has been on our staff since 2007. He first served as our student pastor and now leads our Young Adult Ministry. He's also the teaching pastor at The Well, a weekly worship gathering for young adults. It meets at Mule Town Lumberyard (1104 S. Garden St.) Sundays at 6:30 p.m. Pastor Deron and his wife Lourae have two children: Stephen and Luke.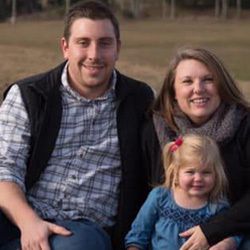 Pastor Ryan joined our staff in 2019. He oversees our ministry to students in 7th up to 12th grades and is passionate about helping students find Christ and live their lives on mission for the glory of God. He and his wife Jessica are the proud parents of Charlie.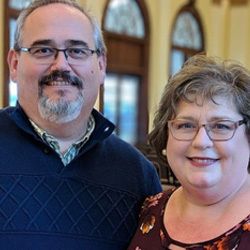 Event Coordination Pastor
Pastor Joey is responsible for the facilitation and support of all special events on our campus. Recognizing that every time our doors are open is special, he works with our greeters, ushers, and Information Central staff to ensure an overall sense of hospitality for our members and guests. Pastor Joey joined our staff in 2002. He and his wife Kim have three children: Seth, Zachary, and Mollie.
Director, Senior Adult Ministry
Larry and his wife Pat have been members at First Baptist Columbia since 2007. He has served as a small group leader, a deacon, our Men's Ministry leader, and on a variety of teams and missions initiatives. "I am so blessed and humbled to serve my Lord through the ministry to senior adults. My heart is that seniors will continue to grow and serve our great God through ministry, missions, and fellowship — encouraging each other along the way."
Student Ministry Associate and Director of Ministry to Girls
Emily joined our staff in 2020. She oversees our Student Ministry's administrative work and is hands on with discipleship and outreach. She's a graduate of the University of Tennessee and has always had a passion for children and youth ministry.
Ministry Assistant, Executive Pastor and Church Administration
Beth works with the operations side of our church's ministry and manages our church's finances. She and her husband Rick have two daughters, Maggie (married to Christopher Turnbo; their children are Taylor and Caison) and Jessica.
Susan, a retired speech therapist, serves as one of our part-time receptionists. Susan is married to Jerry, and they have two children: Julie (married to Andrew Ackley; their children are Luke and Lillian) and Steven (married to Kalah).
Whether it's making sure each of our 26 HVAC units is working properly or scheduling the cleaning and care of our 76,000 square foot facility, Ralph is the man in charge. Ralph and his wife Elizabeth have four children: Scott, Alan, Taylor, and Jessie.
Business Office Assistant
Nancy joined our staff in 2020. She recently retired as associate professor and program director of Radiologic Technology at Columbia State Community College, where she worked for 26 years.
Ministry Assistant, Senior Pastor
Gayle serves alongside our Senior Pastor and works with our hospital, and prayer ministries. Before coming to our church, she was at Maury Regional Medical Center for 40 years working as a nurse and director of nursing. She resides in Columbia with her fur-baby Lucy.
Ministry Assistant, Children's Ministry
Ayesha serves alongside Pastor Dathan Hale in our FIRST KIDS and Weekday School ministries. She and her husband Mike have five children: Emilee; Kimberly (married to Tyler McKenzie); Jessica (married to Sean Holder); Bryan; and David (married to Emily); and three grandchildren.
Brady joined our staff in 2020. He comes to us from Valdosta, Ga., with a degree in Mass Media. Brady is gifted in working with tech, but more importantly, he has a heart and a calling to local church ministry. Brady and his wife Summer were married in December 2020.
Sherri oversees catering at our church. She also serves as a receptionist in our office and helps in our Weekday School when needed. She and her husband Ed have two children and five grandchildren.
Ministry Assistant, Biblical Education and Senior Adults
Karen takes care of church membership, baptisms, guest visitation, attendance numbers, curriculum, and senior adult ministry details. Karen and her husband Gary have two children: Kevin (married to Lisa; their children are Samantha and Michael) and Melissa.